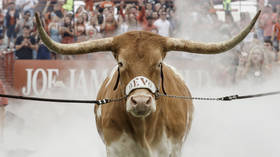 I liked the RT (Russia Today) reporting on the Uga vs Bevo confrontation at the beginning of the Sugar Bowl.  Oh, Horns won 28 – 21.
There was chaos ahead of the Sugar Bowl American college football game between Texas and Georgia when Texas mascot Bevo – a giant longhorn steer – charged at Georgia talisman Uga the bulldog.

Bystanders were forced to scarper in fear as Bevo broke free from his somewhat flimsy enclosure and charged towards Uga.

Despite being massively outweighed, Uga managed to dodge the giant steer before handlers managed to get Bevo back under control – much to the relief of those nearby.